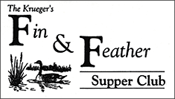 From Dennis, Betty and Tom Krueger, owners:
Josh and his family are very special to all of us here at the Fin & Feather; we employed his mom, Kay, his sisters Jessi and Jamie, and his twin brother Joe, a very kind family that is now in need. The family would like to continue visits with Josh who is now in Washington DC. We would like to help offset the travel costs by holding a "Josh Wege Benefit Day" on Sunday, November 15th 2009. We will give back 10% of our total income that day to the Wege family. Please help us help the Weges!

We offer a spectacular brunch every Sunday and a Sunday evening special.

Dennis, Betty, and Tom Krueger

Directions:
Three miles south east of State Hwy. 45 on Hwy. SS located in the heart of the scenic northern Kettle Moraine State Forest.

From the North: Take Hwy. 45 South to County Hwy. SS. Turn left (east) and continue on SS into New Prospect. You'll find us on your left.

From the South: Take Hwy. 45 North through Kewaskum to Hwy. 67. Turn right (east) on Hwy. 67 and continue to Hwy. SS. Turn right on SS and continue into New Prospect. You'll find us on your left.